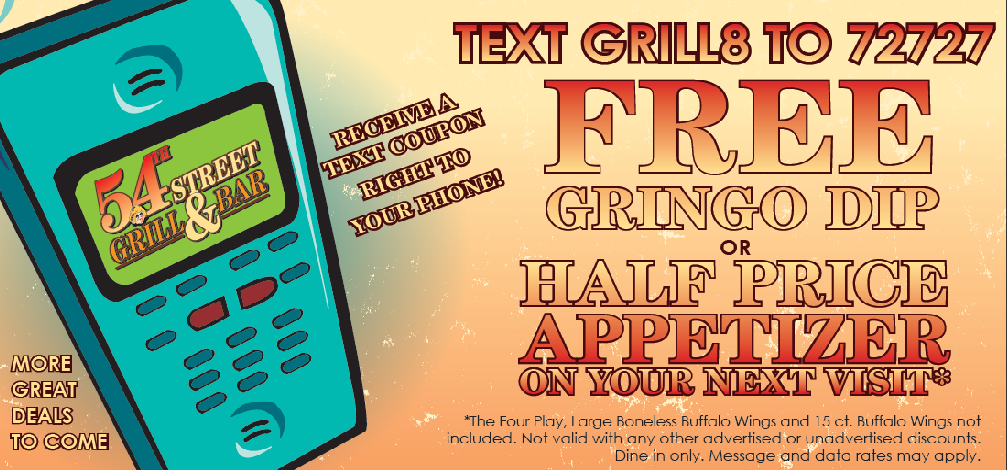 Casual Dining and FUN
92% of the adult population is walking around with a cell-phone and today's top brands are figuring out how to interact with and market to their audience more direct.
Benefits of Mobile Communication/Marketing
Increasing Customer Loyalty
Proper utilization captures your customers in-venue and allows for continued communication directly to the cell-phone in the future resulting in additional visits and revenue.
Combining the "Mobile Call-to-Action" with traditional campaigns like outdoor, radio, print, etc increases the effectiveness of those media more than 3x according to recent studies.  "Mobile" delivers NEW Clients.
Track Effectiveness of Traditional Advertising
For the first time ever Short-codes show quantifiable results of traditional campaigns.  The result is cost-savings by cut-backs on media that do not provide a Return-on-Investment.  "Mobile" saves wasted Ad dollars"
Real-Time Notification and Updates
Instantly connect with your clientele in-venue or out with interactive engagements like; polls, games, giveaways, or even send Food Specials and VIP Specials and event reminders to drive additional revenue.
Today there is no question that brands can drive revenue by talking to their customers at the speed of Text.
Loyalty
Mobile-Marketing or "texting" your customers is the single best way to encourage additional visits throughout the year.  Continuing to stay in front of your clientele who already enjoy Dave & Buster's helps encourage Top-of-Mind awareness and increases repeat visits.
Text Messages are read 97% of the time
Mobile response rates range between 4-22% depending on value of promotion.
Strategies
Free $2 worth of games – Every customer that walks in the door is handed a card that tells them to Text DB to 72727 now and receive $2 worth of game coins.
The customer texts to the phone number 72727, and sends the message DB.
The customer receives an auto-generated response giving them a coupon code to redeem their $2 worth of game coins, and says watch for future VIP specials and events from D&B.
Results;  Quick database growth and thousands of your exact customers in your Mobile database.
Send messages bi-monthly offering VIP specials to these customers and watch between 8-28% come in and redeem the offer.
Strategy #2
½ priced Appetizer – Every server and greeter wear a button that says, "Ask me how to get a ½ priced APP.
When people ask, they say simply, "Just text DB1 to 72727, and we will give you a coupon right back to your phone for a ½ priced appetizer."
Drive Customer Loyalty:
Trigger Marketing Tactics such as aggressive FREE offers at the point-of-sale to encourage large quantities of opt-ins cause an initial "cost-of-acquisition" to grow the database.  However, with nationwide opt-out rates of less than 1%, and Call-to-Action or Redemption rates on future promotions that range between 8-28%, the calculations show an immediate ROI.
Once current buyers are entered into the database, AvidMobile mobile tactics combined with D&B offers, will trigger 2 or 3 additional purchases per year for clients in the database.  Return-on-investment on the loyalty (VIP) program are more than 15 to 1 on text-promotions alone.  These programs are designed to work with current buyers but encourage more purchases, drive consumers to other product offerings, larger purchases, and later to mobile and online ordering.
Lead Generator
Adding a Mobile "Call to action" gives every traditional advertising and marketing channel the chance to be a lead generator. Marketers have been preaching for decades that it takes 6 touches to gain top-of-mind awareness with potential customers. Use enticing "mobile only" offers to grab them in 1 touch and then use Mobile to turn them into Loyal customers.
Whether it is Outdoor, Radio, Newspaper, Direct Mail, or some other type of traditional media, an interested "potential" Fan must only be exposed once if the media has the power of a Mobile "Call-to-Action" centered in the ad, and then you got'em.
An ad might read,
"For an incredible 1 time offer, Text GAMES to the phone number 72727 now"
"Enter for a chance to Win one of 5 FREE birthday parties, Text BDAY to the phone number 72727"
"Is the Family bored?  Text FAMILYFUN to 72727 for an Amazing D&B Coupon"
Text NYC to 72727 for your chance to WIN!
Any traditional campaign grows exponentially with the Power of Mobile. 
Tracking Traditional
Putting a Mobile call to action with any traditional advertising allows you to see if your customer base is listening and reacting to those ads.
Example;
D&B runs advertising on two radio stations, the cost of each being roughly the same.  A mobile "call-to-action" is placed in the center of each of these radio spots.
Radio Station A -  Call-to-Action says, Text DB1
Radio Station B -  Call-to-Action says, Text DB2
The results were as follows;
Radio Station A – 114 people texted-in to the database, and 12 people showed up and redeemed their mobile coupon.
Radio Station B – 211 people texted-in to the database, and 55 people showed up and redeemed their mobile coupon.
Companies are using the quantifiable/measureable data and making budget cuts and recommendations based on the findings.
Measure your marketing results, and decrease spending while increasing results!
Marketing Consultation and Support
Aimee Mobile Marketing specializes in strategies that are proven to build large databases of your exact demographic, and then leverage more revenue out of them.  Our team does a lot more than supply technology to accommodate your goals, but help you create, manage, and deploy your campaigns.
When you can track your Return-on-Investment with Mobile, the only question is how do we grow our databases even faster.  When your company can invest in something that produces quantifiable results quickly, the satisfaction is not just in the dollar signs, but in an exciting environment that has been created.
For more information call 1-843-450-1223, or e-mail aimeemobilemarketing@gmail.com
Wondering how you can use Mobile Marketing for your restaurants?